You may think San Diego is all about the sun, but when it goes down, America's Finest City comes to life.
When it comes to San Diego at night, there's no limit to what kind of fun awaits. Family activities, like an evening of stargazing at the San Diego Astronomy Association or a cruise of the harbor, are sure to create lifelong memories. Plan a romantic evening for two starting with a gourmet meal in Little Italy and ending with the breathtaking view of the skyline on the San Diego City Lights Night Tour. Branch out and meet new people in the enchanting pubs of the Gaslamp Quarter. Looking for things to do at night in San Diego? Look no further.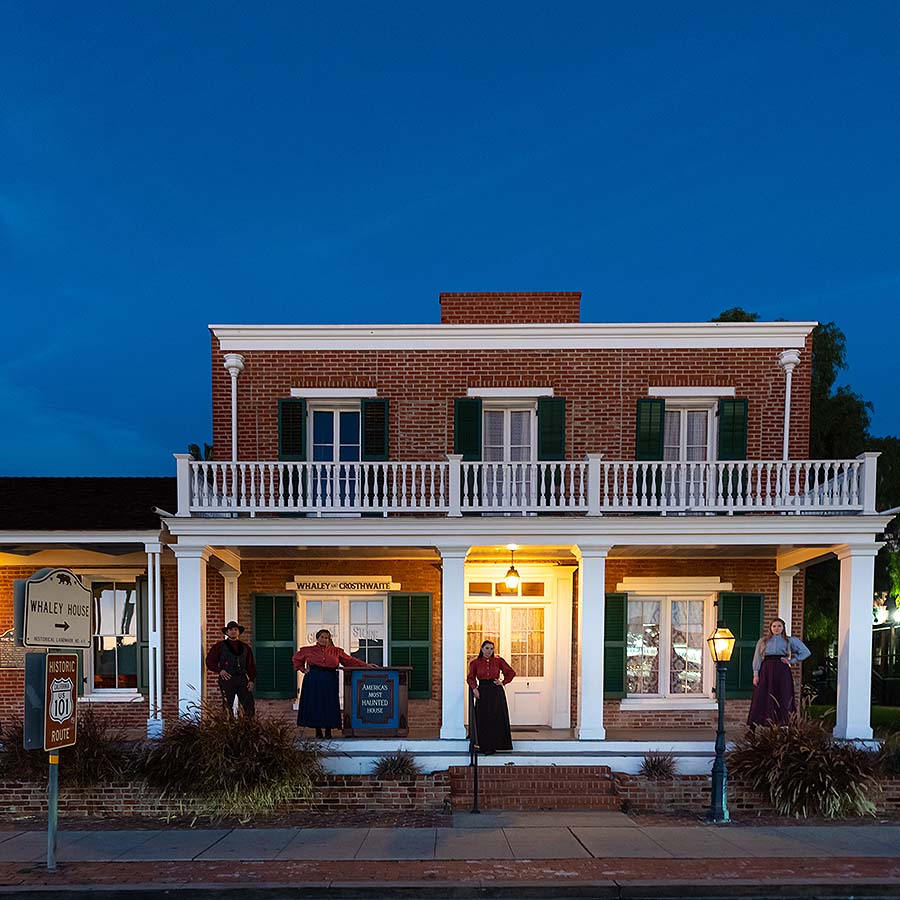 Whaley House Evening Tour
America's Most Haunted House® awaits with ghosts lurking around every corner. Take the Whaley House Evening Tour if you dare! One of the spookiest things to do at night in San Diego, this close encounter with the spirit world is not for the faint of heart. The tour is 30-40 minutes long and delves into the nuances of the Whaley family through the historic home and grounds and how it came to be the most haunted house in America. While it's not guaranteed, guests should always be ready for a ghost spotting, so have your cameras ready. Keep in mind, while this is one of many family activities to enjoy in San Diego at night, children under 13 years of age might find the tour a bit overwhelming.
Balboa Park After Dark
The sun has set in Balboa Park, San Diego's premier cultural hub. A day of museum tours and pristine scenery has come to a close, and an inspirational evening of live music and incredible food has begun. Enjoy the theater in the crisp evening air at Balboa Park's Old Globe theater. Gaze upon an awe-inspiring collection of works at The San Diego Museum of Art. Grab a bite and a craft cocktail at ARTIFACT at Mingei International Museum. Take a leisurely stroll through one of Balboa Park's many botanical gardens. Take note of the way the night lights gleam off of the gorgeous Victorian-style architecture throughout the grounds. Perfect for date night, catching up with old friends, an evening of treating yourself or filling the family photo album, an evening in Balboa Park is a good idea for everyone.
Ghosts & Gravestones Tour: Skeptics Beware
Of all the things to do at night, none will have you as thrilled as the Ghosts & Gravestones tour of San Diego. Hear all about the history of San Diego through the lens of the city's most notorious spirits still looming in this dimension. Aboard the Trolley of the Doomed, you'll start in Old Town and make your way through El Campo Santo Cemetery, ending up at the Historic Whaley House Museum grounds, all while listening to accounts of paranormal occurrences like no others. Lasting about an hour and a half and including a number of historic sites and buildings throughout Old Town, this tour will have your heart beating fast for more reasons than one. This tour focuses on historic ghost lore and might be a bit too frightening for young children, so keep that in mind when planning your family activities for your trip to San Diego.
San Diego City Lights Night Tour: See Why They Call it America's Finest City
There is no finer sight than the moonlight dancing across the city of San Diego at night. See so yourself on the San Diego City Lights Night Tour aboard a trolley. San Diego Bay reflecting the magnificent city skyline, the remarkable architecture on display in Balboa Park and the luxurious US Grant Hotel are only a few highlights of this can't miss tour. This Old Town Trolley tour presents San Diego's best attractions with a backdrop of the city's thriving nightlife with activities for all ages. After all, nobody knows San Diego better. Whether you are looking for an evening of peak romance or searching for family activities everybody can appreciate, the San Diego City Lights Night Tour is for you.
Embark on a Cruise of San Diego Harbor
Are you craving a five-star meal, a bottle of wine that could only be described as divine, and live renditions of all your favorite songs? If so, look no further than the dinner cruises offered on San Diego Harbor. Experience the world-class service of the most trusted cruise companies in San Diego. A drink in your hand as soon as you step onboard and a boat full of people eager to enjoy a soothing night of views and ocean blues, a dinner cruise is the perfect excuse to show off your best outfit. Cruising along the calm, pristine waters of the San Diego Harbor with the glint of the moonbeams in your eyes, a dinner cruise of the harbor is the perfect setting for an evening you will never forget.
An Appetite for Little Italy
San Diego's Little Italy is home to some of the city's most treasured restaurants of all kinds, styles and cuisines. If you're looking for a greasy bite accompanied by a pint, or if you're looking for refined dishes from exciting chefs bucking for a Michelin star, Little Italy is a sensational neighborhood to enjoy a meal in. Try Ironside Fish & Oyster for an elegant homage to all things seafood. Indulge your deepest cravings with a perfectly greasy burger and a pint of premium beer at Burger Lounge. Bring the whole gang and spend the night picking at the delectable hors d'oeuvres of Ballast Point Brewing Company. Eating is high on everybody's list of things to do at night, so embark on a journey of the palette in one of the best neighborhoods for foodies in all of San Diego.
In the Gaslamp Quarter, You're Never in the Dark
Where the spirit of downtown San Diego lives, there are seemingly infinite things to do at night in the historic Gaslamp Quarter. Enjoy a meal, after dinner drinks and a cigar lounge stogie. Do some high-end shopping, hit the club in your fancy new outfit and walk back to your hotel under the dazzling city lights. If you're searching for fun family activities, catch a Padres game at Petco Park with the youngsters and bring them close to some of baseball's most exciting young stars. The Gaslamp Quarter is the best place in San Diego to let your hair down and have a blast. Breathe in the soul of the city and live your life with the freedom you've always craved in San Diego's Gaslamp Quarter.
Stargazing at the San Diego Astronomy Association
All it takes is one look up at the night sky speckled with stars farther away than we can even imagine to be reminded that everything down here on earth is going to be okay. San Diego at night is one of the premier stargazing cities thanks to the San Diego Astronomy Association. Ranking high on the list of family activities to enjoy throughout America's Finest City, the San Diego Astronomy Association is here to assure you that science is fun! Dedicate an evening to one of SDAA's public star parties hosted at the Tierra del Sol observing site, and stand side by side with some of the most remarkable homemade telescopes. With a wide range of events perfect for the enthusiastic amateur scientist, the casual stargazer and everyone in between, the SDAA can show you the world from an astronomical vantage point.
The Late Night Café Scene of San Diego
Such a delicious beverage brought to us in a variety of different ways, who's to say we can't enjoy a cup of coffee after dark? Engage in San Diego's late night café scene for some quality coffee talks and the incomparable smell of roasted coffee beans. Try one of Lestat's two locations, each offering outdoor patio seating, where customers can have the best of both worlds with their coffee — their way at night. If you're looking to be closer to the action, try Café Bassam downtown, where you could have a nice bite and breathe in the energy of the bustling nightlife around you. With free Wi-Fi, the late night café scene of San Diego is the perfect place to hunker down to meet a deadline or video call with your friends back home to tell them all about America's Finest City.
Fishing in the Moonlight
If the city is proving too much for you, there is no better way to get back in touch with Mother Earth than night fishing on the San Diego shore. Just make sure you have an easily obtainable fishing license from the California Department of Fish and Wildlife before you cast out into the ocean and bring in the catch of your lifetime. The waters of La Jolla, Mission Bay and Del Mar have proven fruitful for the amateur and experienced fisherman alike. Even if you can't seem to reel in a thing but clumps of seaweed, the shores of San Diego at night are a majestic site to take in.